Boyle County High School Earns Georgia Davis Powers Award
Boyle County High School Earns Georgia Davis Powers Award
Alison Lundergan Grimes presented the Georgia Davis Powers Award to Boyle County High School. They were the only high school in the state with 100% of eligible students registered to vote.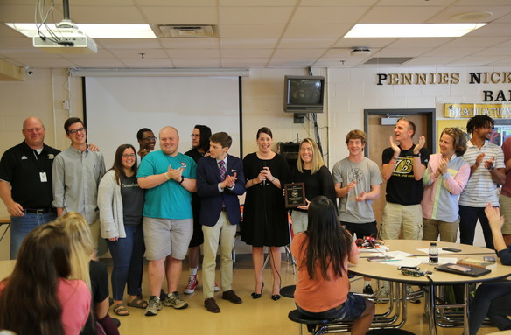 High School Senior Vanita Fitzwater, along with AP Government teacher Mr. Tyler Murphy, and other students campaigned and held lunch time drives to reach their goal and encourage all eligible students to register.
Read more...  WTVQ   The Advocate Messenger
---
Georgia Davis Powers was the first African-American and woman elected to the Kentucky State Senate.
She was an influential member of the Civil Rights Movement, and a confidante of Dr. Martin Luther King, Jr. Throughout her life, Senator Powers was committed to equal rights and fought for causes to prohibit discrimination in schools, workplaces, and housing on the basis of race, sex, and age. She supported legislation to improve education for the physically and mentally disabled.
Senator Powers always urged young people to become involved in the democratic process and to stand up for what they believe. As a role model and mentor, Senator Powers encouraged young people to make a difference in their communities and Kentucky.
Learn more about the Georgia Davis Powers Award here.
Share this post: