KASC Endorses Kentucky Safe Schools Week
October 20–26, 2019 - Safe Schools Week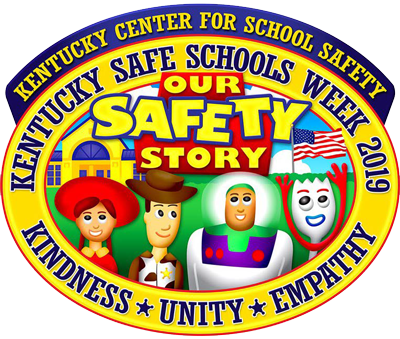 Kentucky Safe Schools Week is set for October 20–26, 2019. This year's theme is "Our Safety Story!" KASC and the Kentucky Center for School Safety stands on the belief that everybody should enjoy school equally and be treated with respect. Community members, educators, students and parents are encouraged to get involved during Kentucky Safe Schools Week.

Every school has its own cast of characters weaving the fabric of its own Safety Story.  As in the film Toy Story 4, Woody, Buzz, and Bo along with a host of others, welcome a new friend, Forky, and help him find his purpose.  Our schools are composed of students/staff who are a host of likely characters with a variety of interests and talents. Remember the words of Buzz Lightyear, "The important thing is that we stick together."  We ask that you join us across Kentucky, each and every school, as we embrace unity, kindness and empathy to enhance "Our Safety Story" ...'cause you got a friend in me.'
Our Safety Story Pledge...Kindness★Unity★Empathy
By taking the pledge we are embracing unity, kindness
and empathy to enhance "Our Safety Story" and
creating a feeling of community and friendship throughout
Kentucky's schools.
To keep Kentucky schools safe places in which to learn and work, I pledge to be:
Strong enough to show empathy for others who need help at school.
Awesome, as I strive to use tolerance to create unity at school.
Friendly, showing kindness to others of all ages.
Encouraging, promoting a feeling of community and friendship throughout my school.
www.kysafeschools.org/sswpledge
During Safe Schools Week the KCSS website supplies
a variety of teaching aids along with the online pledge
and Kentucky Safe Schools Week Tool Kit loaded with
 resources such as daily announcements, activity pages,
PowerPoint presentations, lessons, videos, scenarios,
interactive websites and much more.  Resources will also
be available for school administrators, parents and community
involvement at www.kysafeschools.org/ssw.php
The Kentucky "Our Safety Story!" campaign is sponsored by the Kentucky Center for School Safety. This observance coincides with the national campaign. America's Safe Schools Week is sponsored by the National School Safety Center.  "I encourage all Kentuckians to get involved and nurture kindness, unity and empathy across our Commonwealth and in our schools. Teaching tolerance and modeling kindness in our everyday lives will help build the safe communities and schools of tomorrow.  Joining together, we can make "Our Safety Story" phenomenal." said Jon Akers, Executive Director, KCSS.
Share this post: