KASC Summer Reading Workshops
2019 Summer Reading Workshops
Summer Reading Workshops are offered for elementary regular and special education teachers, interventionists, and Title 1 teachers through KASC's Summer Academies. Diagnosing and Prescribing for Strategic Reading and The Nuts & Bolts of Reading Instruction workshops will be held in London, KY on July 18, 2019 and in Lexington, KY on July 23, 2019.

KASC's Summer Reading Workshops are available only through academy participation. These two sessions are led by experienced reading specialists with a passion for teaching reading and a commitment to support the professional growth of teachers.
Cindy Blevins is currently KASC's Education Leader, but formerly an elementary teacher, interventionist, and literacy coach. Her literacy training results from experiences at the Ohio State University Literacy Collaborative, Orton-Gillingham training, Lindamood-Bell programs, and America's Choice.

Jeannie MacShara has more than 35 years of experience teaching students to read. Her work as an elementary teacher, literacy coach, Reading Recovery® teacher, and interventionist have fueled her passion for teaching children and mentoring teachers. Her extensive training includes studying at the Ohio State University Literacy Collaborative, Reading Recovery training, America's Choice, and her own constant study of literacy education.

---

PROGRAM OVERVIEW: (Reading workshops offered in London & Lexington, KY)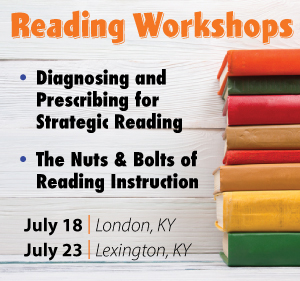 Diagnosing and Prescribing for Strategic Reading
This session will focus on the reading record, a multi-use tool which enables teachers to:
Efficiently group students for guided reading or other skills-based literacy instruction.
Gather specific reading data for summative assessments to report to parents, administrators or to contribute to a special education referral.
Gather formative data to guide on-going instructional decision making such as determining a change in level, setting a teaching focus or adjusting group membership.
Provide a basis for on-the-spot differentiated teaching points to move individual readers forward.
Participants will practice coding a child's reading, analyzing results, and prompting the reader with strengths and teaching points.

The Nuts & Bolts of Reading Instruction
This session is focused on the building block components of reading: phonics, fluency, writing to support reading, vocabulary, and comprehension. Participants will receive an overview of each component and engage in strategies to incorporate and link components for a stronger, more cohesive reading approach. This hands-on workshop will re-energize teachers for the upcoming school year.

Suggested audience: elementary regular and special education teachers, interventionists, and Title 1 teachers
Register for these and other KASC Summer Academies below:
Share this post: